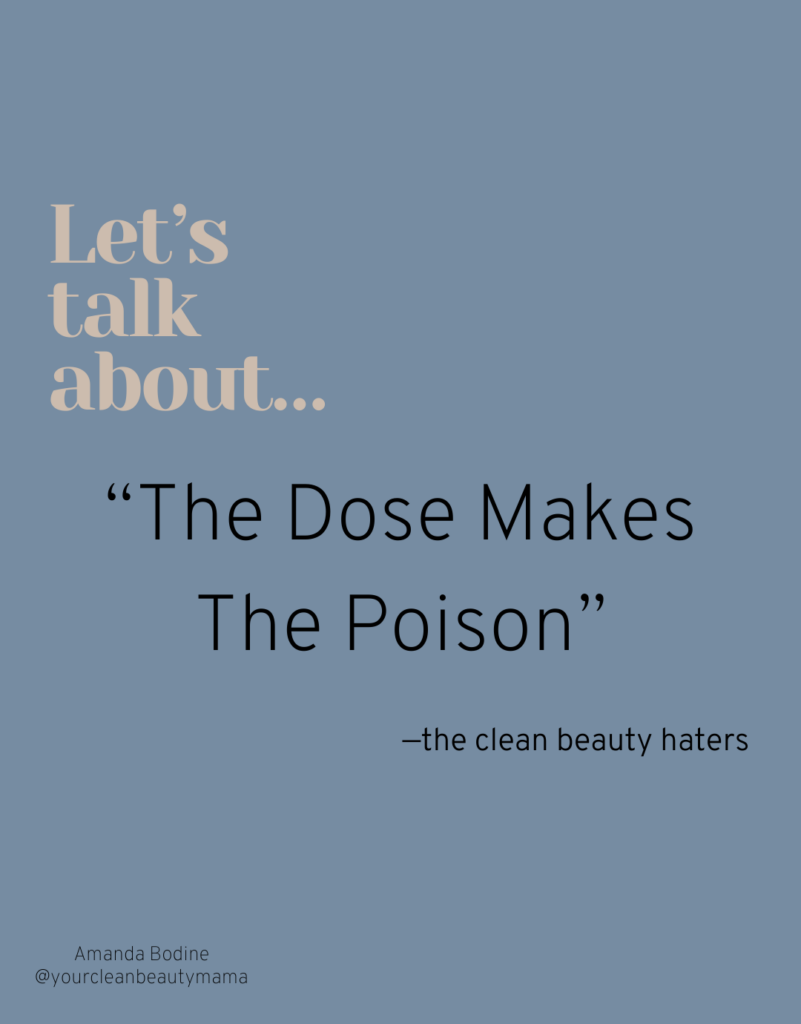 Often times when making their argument for why endocrine disrupting chemicals aren't an issue in personal care products, the clean beauty haters will use the phrase: "the dose makes the poison."
Their meaning: small amounts of a toxin cause no harm, or cannot sufficiently be linked to harmful health outcomes.
While at first glance, this appears to be a plausible argument, it is in fact rooted in very old, outdated science (I'm talking 16th century), and chooses to blatantly ignore more recent science that has proven this to not always be the case.
There have been over 600 studies of 18 endocrine disruptors that show low level exposure is more harmful than very high level exposures.
Let's use Bispenol-A or BPA as an example.
In vetted, peer reviewed studies it's been found that BPA exposures in the body prove to be more harmful at low levels than at high levels. This is due to competing estrogen receptors in the body that get activated by this disruptor at different levels. An "on" switch is activated at low level exposure while an "off' switch is activated at very high levels.
DOSE compounded across multiple products, multiple times a day over the course of a year, or a lifetime starts to really add up to BURDEN
Exposure to a toxin at a low dose once, may pose no longterm adverse effects to your health, but let's consider that when we're talking about toxins in your personal care products you are very likely using those products every day, and usually twice in the same day.
Hormones regulate every system in our bodies. Endocrine (or hormone) disruptors cause real harm that can impact generations.
Endocrine disrupting chemicals have been linked to:
lower IQs low sperm count
obesity testicular cancer
type 2 diabetes heart disease
birth defects autism
infertility breast cancer
endometriosis fibroids
ADHD
Trasande, Leonardo. Sicker, Fatter, Poorer: The urgent threat of hormone disrupting chemicals to our health and future…and what we can do about it. New York, Houghton Mifflin Harcourt, 2019.